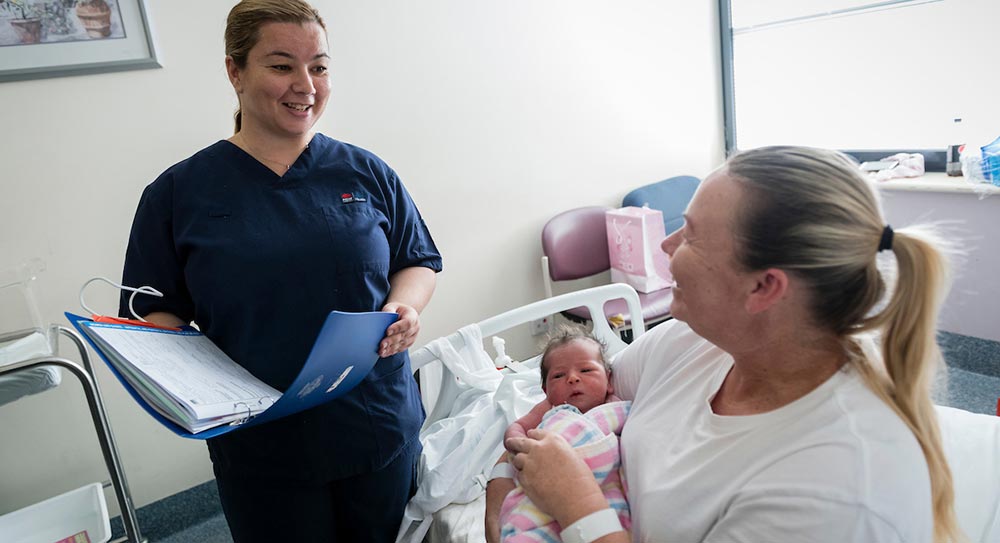 Communicating at discharge
Discharge refers to the processes, tools and techniques by which an episode of treatment and/or care to a patient is formally concluded by a health professional, health service organisation or individual.
Poor communication at discharge is related to increased risks associated with medication management, ongoing care and readmission. There is some evidence that enhancing a patient's knowledge of their condition and treatment can help to ensure a safe transition at the end of a hospital stay.
Discharge is a high risk time for patient safety
Effective communication and documentation at discharge, between healthcare providers and with patients, families and carers is essential to ensuring safe, high-quality and continuous patient care
At the time of discharge, there should be prompt, relevant and accurate communication about the episode of care, including a complete and accurate list of medicines, details of active clinical problems and plans for ongoing management
A complete, accurate and legible discharge summary should be provided to the patient (or support person, where appropriate) and other relevant healthcare providers involved in the patient's care within a short time of the patient leaving the service
There is an increase in risks associated with discharge for patients who are elderly or who have diminished literacy.
Person-centred care is recognised as a key dimension of safe, high quality healthcare. Engaging with patients and their support people at discharge can have a positive influence on patient outcomes through clarity of management plans and by reducing readmission to hospital.
Clinicians should provide written information to patients and their support people, and take time to explain discharge instructions, medicine regimens, and who to contact if they have questions or concerns after discharge. The Teach-Back method is a valuable communication skill to confirm patients' understanding of the information given to them.
Also see:
Clinical handover at discharge often occurs via a written document, usually in the form of a discharge summary. Delays in providing discharge summaries to GPs, pharmacists and community health providers increase the potential to adversely impact the safety and quality of patient care.
From a continuity of care perspective it is important that clinicians ensure that accurate, legible and relevant information is exchanged in a timely manner with the next health provider, and where possible the patient and their support people. Clinicians need knowledge of their health service organisation's clinical communications processes and policies, including the agreed discharge information requirements, to enable safe and efficient transfer of care.
My Health Record is an electronic summary of an individual's health information that can be shared securely online between the individual and healthcare providers (who are registered with the My Health Record system) involved in their care to support improved decision making and continuity of care.
Also see:
Further reading
The Delirium Clinical Care Standard makes specific reference to communicating a care plan for patients with delirium.
Effective communication between hospital clinicians and ongoing clinical providers is essential for the ongoing care and recovery of patients with delirium, many of whom may have unresolved symptoms at the time of discharge.
Before a patient with current or resolved delirium leaves hospital, the patient and their support person should be involved in the development of an individualised care plan and provided with information about delirium. The plan is developed collaboratively with the patient's general practitioner and describes the ongoing care that the patient will require after they leave hospital. It includes a summary of any changes in medicines, strategies to help reduce the risk of delirium and prevent complications from it, and any other ongoing treatment. This plan is then provided to the patient and their support person before discharge, and to their general practitioner and other ongoing clinical providers within 48 hours of discharge.
For patients and families
The discharge process is an essential component to ensuring a successful transition of patient care. Clinical communication between healthcare providers, at this point of time, has been identified as a key area for improvement due to fragmentation of health care services. It is also a high risk time for patient safety. 
Errors in communication during discharge processes can compromise patient safety and quality. Poor communication and transfer of information at discharge has been shown to result in an increasing number of hospital readmissions, with lack of effective communication cited as the primary factor that affects post-discharge care.
As a leader in your organisation, you have a responsibility to ensure that the systems and processes in your organisation support communicating for safety in planning for discharge and in the discharge process itself.
The NSQHS Standards complements the participation requirements as set out in Part 5 of the My Health Records Rule 2016. The rule outlines the participation requirements for healthcare provider organisations and contracted service providers which contributes to the secure operation of the My Health Record system.
Effective communication is a key requirement of the NSQHS Standards (2nd ed.) The following table describes actions in the NSQHS Standard that are relevant to communicating for safety at discharge.
| Action | Description |
| --- | --- |
| 1.17, 1.18 | Implementation of My Health Record |
| 2.6, 2.7 | Sharing decisions and planning care |
| 2.8, 2.9, 2.10 | Communication that supports effective partnerships, information needs for ongoing care are provided at discharge |
| 3.7 | Communication of a patient's infection status |
| 4.11 | Provide patients with information on their individual medicine needs and risks |
| 4.12 | Provide medicine current medicine list to patient and receiving clinicians and any reasons for changes |
| 5.4, 5.13 | Aligns with comprehensive care plan |
| 6.1, 6.2, 6.3, 6.4 | Clinical governance and quality improvement to support effective communication |
| 6.5, 6.6 | Correct identification and procedure matching |
| 6.7, 6.8 | Structured clinical handover |
| 6.11 | Essential information is documented in the healthcare record |
For more information see the NSQHS Standards (2nd ed.)
You have a key role and responsibility to effectively communicate with your patient, their support people and other members of the care team when you are discharge planning, or undertaking the discharge process. This requires knowledge of your organisation's clinical communication processes and skills in ensuring interactive, two-way communication, building rapport and trust, and explaining information.
Health literacy is important to the safety, quality and effectiveness of the care you deliver. If your patients do not understand the information you are providing during the discharge process they may be at higher risk of experiencing poor health outcomes.
You can ease the burden on your patients through the way you communicate and present information by:
Assuming that most people will find it hard to understand complex health information and concepts and adapt accordingly (universal precautions approach)
Recognising the needs and preferences of individual patients and tailoring your communication style to their situation
Using a range of strategies to confirm understanding
Encouraging people to speak up and ask questions if they have difficulty understanding
Providing a written discharge summary to the patient to support the discussion.
Effective communication with your patient and their support people promotes an understanding of how to manage their care when they leave your service and any next steps they need to take.
When information is sent or received between care team members, you have the responsibility to verify, validate, confirm, receipt, communicate and act upon it as appropriate to optimise the safety and quality of care. In particular; clear, legible communication of current and changed medications mitigates the potential for the significant safety risks associated with poor medication management at the time of discharge.
For more information see:
When you are being discharged from hospital:
Ask your healthcare provider to explain the plan that you will follow at home, any new medicines you will be taking, and whether you need to make any follow-up appointments
Ask to have your family, carer and/or support person involved in discussions about your discharge from hospital
Discuss with your doctor or nursing staff any concerns you have about being discharged
If you have questions that still have not been covered, ask you healthcare provider if there is information you can take with you, or where you can get more information
Ask for contact details for someone on the ward, in case you have any immediate post-discharge concerns
If your Discharge Summary* isn't provided to you, ask for a copy of it.
*A Discharge Summary is a written document that summarises why you came into hospital, the care you received, the plan of action when you leave the hospital, and lists any follow-up appointments. The hospital should send your Discharge Summary electronically to your GP.
Questions you can ask:
Can you explain to what I need to do to manage my care at home?
Will I need someone to care for me after the operation?
How can I find someone to assist me?
What should I do if my symptoms get worse?
Who can I contact if I need to speak with someone?
Will I be given a written discharge plan or care plan?
Will you send the discharge plan or care plan to my GP?
My Health Record
The Australian Government has invested in the My Health Record system, an online summary of your health information that is accessible at any time by you and your healthcare providers. You control what goes into your record, and who is allowed to access it. Documents that may be securely shared between your healthcare providers include:
Term
Definition
Shared Health Summary (SHS)

A summary, authored by the patient's Nominated Healthcare Provider, of an individual's health status including adverse reactions, medicines, medical history and immunisations. A patient has only one current Shared Health Summary at a time.

eReferral

An eReferral supports the seamless exchange of significant patient information from one treating healthcare provider to another, which can include:

Current and past medical history
Current medications
Allergies / adverse reactions
Diagnostic investigations 
Free text field for the referrer to include additional content regarding the patient's clinical story.

Event Summary

Clinical summaries of a significant health event, entered by the healthcare provider who was involved in the patient's care to inform other treating healthcare providers.

Discharge Summary

A record of an individual's hospital stay and any follow up treatment required.

Diagnostic imaging

Such as ultrasounds or x-rays (availability subject to provider uploading to the My Health Record).

Pathology results

Pathology results, from public or private laboratories (availability subject to provider uploading to the My Health Record).

Prescriptions and dispense information

Medication information, such as dosages and frequency.

Specialist Letters

Referral letters and reports from one treating healthcare provider to another.